Black Hills Trailside Park Resort
 The resort is located in the Black Hills, halfway between Mount Rushmore and the Crazy Horse Memorial. Rapid City, Custer State Park, and the city of Deadwood are only a short distance away.
 Black Hills Trailside Park Resort is also within walking distance of the 1880 Train and downtown Hill City, where you will enjoy a variety of great restaurants and shops.
 The resort features almost eight acres of lush land, including 35 generously-sized RV camp sites. Each site is outfitted with W/S/50 amp, as well as cable and Wi-Fi at no extra charge. You could bring your tent and camp under the stars next to a babbling brook near The Mickelson Trail.
Whatever you choose, you will be able to take advantage of the clean shower facilities, which will provide for your maximum comfort and convenience. We also have 9 vacation cabins that are fully equipped with kitchenettes and full bathrooms with a shower, which will make your stay with us truly feel like you are at home. Check out the amazing views at this Black Hills campground.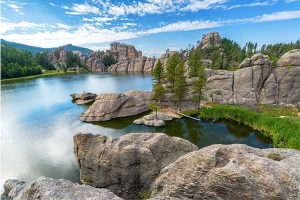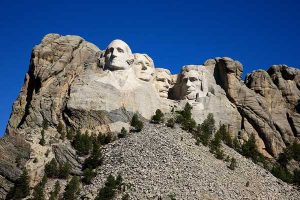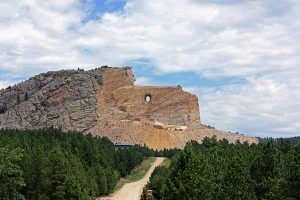 Base Camp In The Black Hills
Trailside Park Resort is nestled deep in the heart of the Black Hills with tons of local attractions within walking or driving distance. Our cabins, RV, and tent sites in the Black Hills are close to the following attractions:
• Mickelson Trail = We're On It!
• Hill City, SD = 5 Blocks
• 1880 Train = 4 Blocks
• Needles Highway = 2.8 mi
• Sheridan Lake = 6 mi
• Custer State Park = 8.7 mi
• Crazy Horse Memorial = 14 mi
• Mount Rushmore = 10 mi
• Pactola Lake = 15.3 mi
• Rapid City, SD = 27.7 mi
• Deadwood, SD = 44.6 mi
• Deadwood, SD = 44.6 mi
• Spearfish Canyon = 57.8 mi
• Badlands National Park = 88.2 mi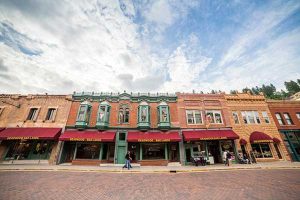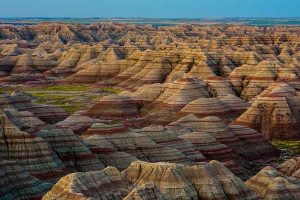 AMENITIES & ACCOMODATIONS

Cozy Cabins
8 clean cabins with 4-5 person capacity

Free WiFi & Cable
Good Cell service, wifi, & cable TV w108 channels

Mickelson Trail
109 mile Mickelson Trail intersects Resort for hiking and bicycling

Deluxe RV Sites
35 generously sized W/S/50 amp sites

Shower House
Very clean restrooms & shower house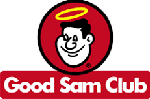 Tent Camping

Trout Fishing
Spring Creek w/ trout fishing & gold panning

Hill City
We're Central to Everything!
AMENITY DETAILS & GENERAL INFO
On-Site Activities:

Hike or bicycle the Mickelson Trail (109 miles of trails that bisects our resort)
Fish for brown or rainbow trout, gold pan, or inner tube in Spring Creek which runs through the Resort
Within walking distance of downtown with the finest wineries, restaurants, shops, galleries, and museums (ccc, teddy bear, dinosaur, train)
Children's playground and pet friendly, with pet cabins also.
Great call service, wifi, and cable TV w/108 channels
Centrally located to all attractions: 10 miles to Mt. Rushmore, Crazy Horse, Custer State Park, and Needles Highway, etc.

On-Site Rentals: Car, Bicycle, and ATV
Over 3,000 miles of roads and marked trails to ride ATVS on, one connects directly to our Resort.
Clean shower house and restroom with locking shower room doors.
SEE WHAT OUR CUSTOMERS HAVE TO SAY
QUIET TIME is from 10 p.m. – 7 a.m. Please no loud music or disturbing other campers.
WATER AT RV SITES: The water pressure is very high! If you leave for the day, please shut the
water off.
RV AWNINGS: Please take care with your awnings–we sometimes get high winds and/or hail.
FIRERINGS: Please do not move the Firerings.
PETS: Please pick up after your pets–Doggy Bag Stations are provided. Dogs need to be on
leashes at all times.
GOLD PANS & FISHING POLES are available at the office. $10 cash deposit per item. When you
bring the items back in working order, your deposit will be returned.
FIREWOOD available for $5/bundle cash only.
VEHICLES: Please keep ALL vehicles off the grass–this includes Trailers, Cars, Trucks, & ATVs. We pay a lot for lawn maintenance.
General Info
Registered Guest Policy: To reserve a cabin or RV Site, you must be 21 years of age. Guests are allowed, but not overnight. You may contact our office with questions.
Tents: Two (2) tens are allowed per site, in the grass. Vehicles should be parked back from designated tent areas. Some fire pits are shared, as are some picnic tables. The shower house use is free.
Campfires:  Campfires must be in the designated fire pit, please do not move these around. Please attend the fire. When leaving the campground, please ensure the fire is out. There is a shared firepit for cabins, to ensure fires are away from trees. Little Leaf Linden has its own fire pit. Firewood is available for $10 a bundle. Firewood can be purchased at the office or can be ordered at the time of reservation.
Feedback: We appreciate your feedback. If you are unhappy about something, please contact us and give us a chance to rectify it before leaving negative feedback. We appreciate all our guests and want to make your stay enjoyable!
Cancellation Policies
Off-Season Cancellations made prior to 8 days before reservation will be charged a $35. cancellation fee. Cancellations made after that are non-refundable.
Peak-Season Cancellations made 31 days before reservation will be charged a $35. cancellation fee. Cancellations made 15-30 before reservation date will be charged 50% of reservation fee.
Cancellations requested less than 15 days before reservation are non refundable.
Sturgis Rally Cancellation Payment in full is due at the time of booking, there are no discounts, and is not refundable.
Rate and Cancellation policies subject to change.
If you have any concerns about these policies, please call our office at 1-605-574-9079 so we can answer your questions.
Your next Adventure Awaits
Nestled in the heart of the black hills!
Experience the beautiful and historic natural wonders of the Black Hills of South Dakota at Black Hills Trailside Park Resort Campgrounds Cabins & RV Park.